Our facilities are in full production and capacity is being expanded.  Current lead times can be seen HERE.
American Porch is a manufacturer & nationwide distributor of architectural millwork.  We create beautiful and architecturally accurate vintage porch railings.  Whether your project requires a few feet of roof top railing on a portico, or balcony rails for a series of hotels at a resort–we pride ourselves in delivering quality porch railing & spindles that are beautiful, safe, tested, and easy to install.  Delivered to the jobsite right when you need it.
Featured Porch Products
Listed below are some of our best-selling Porch Railing & Spindles, plus other custom porch solutions.

Many of our customers are involved in restoring their porch railing & spindles, and examples are displayed throughout the website. Here are some more samples of porch railing restoration work we have done. Samples of Restorations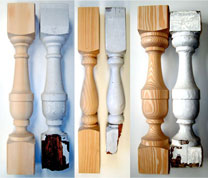 I restored the porch railing using your all's spindles because, as a professional historic preservation specialist, I knew them to be authentic. You can see the results. Thank you all so much for making such fine products available
~ T.S. of Madison, IN
How long will my Porch Railing order take?
How to buy Porch Railing & Spindles
Getting your new or replacement porch railing is easier than you think.  If you're looking at new railings, start by looking at our Shop By Size categories.  For example, click our best-selling 6″ Wood Balustrade.  Or if you prefer a synthetic alternative to wood, click on 5 1/2″ Poly Balustrade, which is our best-selling low-maintenance composite porch railing solution.
If you'd like us to custom reproduce your existing balusters, just send us an email to [email protected] with a picture, dimensions, and quantity.  Next we'll send a quote for your baluster & railing restoration.  If you like the quote, we'll have you send us an original for exact replicas to be produced (or we can go off a picture or drawing if "close" is good enough).
Many people are intimidated by the thought of shipping large balusters and railing.  Don't be.  We've got it handled.  Our team includes professionals that are experts in shipping large porch products in a safe and efficient manner.  Add products to your shopping cart and the shipping cost will be displayed.
How far apart should I space my balusters? How many do I need? (click here)
Solutions for Architects & Builders
Porch railing & spindles is often the last thing to add to a project, and often the last thing you think of.  We've made it easy to clean up this last minute, but very important exterior architectural element.  Build the reputation of being an architect that specs products that are beautiful, safe, tested, and easy to install.  For builders and construction managers, productivity is your greatest ally.  We have invested in equipment and processes that allow us to make product quickly.  It's available right when you need it.  And our balustrade systems are thoughtfully designed so that it can be installed efficiently, saving you labor.  We can further save you time by doing the take-offs here in house.  Just send us the plans and we'll come up with a parts list and a quote.
For Revit users, American Porch is pleased to provide free Revit families for our traditional porch railing products through the Porch Railing Revit Families BIM Library.  Browse our porch railing Revit families here or on BIMsmith Market, then download for your project today.
In the Drawings & Technical Documents page, you'll find important items like CAD drawings (PDF & DWG), 3 Part Specifications, Structural Test Reports, etc.  Installation Instructions are also posted.  We aim to make your job easier.  And it's all right here online so in the highly unlikely chance you're working on your project after hours (right?), you can still get the balustrade specs you need.
Fall and winter is a great time to get your porch project done
You're porch is being used less in winter, your contractor is available, product lead times are shorter, and your porch will be ready to enjoy by summer.  I just read a great article on outdoor winter projects by Chestnut Hill Landscape Contractors (click here).